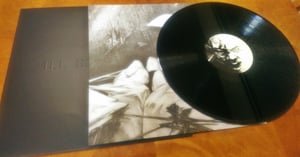 $

25.00 - On Sale
SHIPPING TO START MID JANUARY!
NJ in the house once again, this time with completely unreleased production by the prolific, as of late, Dj Izniz. The group is Ill Behavior, which equals Izniz on the boards with Homicide and Zoo Man Crash rhyming, and together they paint from a dark palette over a gritty early 90's soundscape.
ALL UNRELEASED! ALL 1994!
A1. If There's Beef
A2. Days Of Sin
A3. Assed Out
B1. Savage Nigga
B2. Put Ya Guards Up
B3. Pushed Up
snippets by chris cutter here:
https://soundcloud.com/heavyjewelz/ill-behavior-vinyl-snippets-mixed-by-chris-cutter
All songs written by Homicide and Zoo Man Crash
All tracks produced by Izniz for Izniz Productionz
All tracks recorded at Firehouse Recording Studios and engineered by Ethan Ryman
Executive Producer: Izniz Copyright 1994
Artwork by Spek, includes an embossed cover and fully printed innersleeves.
Remastered for vinyl by Adam Boose.
also, if you buy before the end of December 2014, you can combine shipping with the latest releases from grrvinyl.bigcartel.com