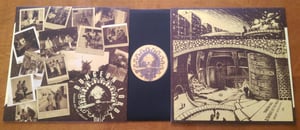 $

25.00 - On Sale
Vinyl in stock, ships mid August.
It's been a long minute but here's some grimy 1993 Jersey ish for ya! 100% unreleased in any format ever, except for a dusty old demo tape. A Trenton NJ affair all around, the emcees are Koop Man and Poppa Es and all 6 tracks were produced by the legendary Tony D (RIP).
150 copies on standard black vinyl
150 copies on transparent brown with black swirl vinyl
All copies are housed in polylined black sleeves and picture covers with artwork/design by Spek the Architek.
Audio restored by Adam Boose.
Snippets by Chris cutter:
https://soundcloud.com/heavyjewelz/dungeon-lordz-demo-ep-snippets-by-chris-cutter
As usual, combined shipping with Gentlemen's Relief. They've got another banger set to drop within the next week or two. So if you cop this and cop that, Henry will get you a partial shipping refund:
http://grrvinyl.bigcartel.com/